New Bedford Whaling Museum

There is lots of interesting

New Bedford Whaling Museum

.
It is in the Whaling National Historical Park in
New Bedford,
Massachusetts, US.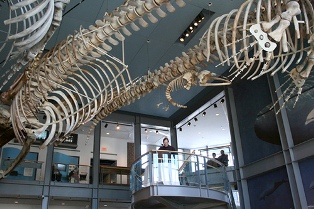 By New Bedford Whaling Museum via Flickr.co

The most impressive things are the interactive model of the

world's largest whaling ship

and four large

whale skeletons

, including the ones of a Northern Right Whale, and a Blue Whale - the largest animal that has ever lived on the Earth.


There are also other interactive exhibits, displays of whales and whaling as well as art, antiquities and cultural artefacts. On the first level are the Museum store and theatre, ECHO Resource Center and Jacobs Family Gallery.

On the second level are

displays and exhibitions on whales

, whaling ships, whaling history, as well as art. On the upper level are Bourne Building Balcony, San Fransisco Room and the

Observation Deck

- with some great views over the harbour of New Bedford.


Custom Search